HHS Region 10 serves Oregon, Washington, Idaho, Alaska, and 272 federally recognized tribes.
Last week, U.S. Department of Health and Human Services (HHS) Region 10 Director, Ingrid Ulrey, appointed by the Biden-Harris Administration in November 2021, visited Idaho to meet with federal, state, and local leaders to discuss HHS' initiatives to address the nation's mental health crisis, homelessness, and access to sexual and reproductive health care.
Stops included:
Homelessness roundtable with the Mayor of Boise and the U.S. Department of Housing and Urban Development
Tour of a supportive housing apartment building for veterans
Listening session with LGBTQI+ advocates and health providers
Roundtable with reproductive rights advocates
Focus group with Idaho First Steps Alliance, an early childhood advocacy coalition
Meetings with Idaho's Department of Health and Welfare Leadership
Tour of the Idaho Crisis and Suicide Hotline
Meeting with Idaho Governor Brad Little
Tour of Saint Alphonsus Hospital
"I visited Idaho this week to not only highlight the work HHS is doing to address the mental health crisis and other health care issues but to also learn about the great work Idaho is doing to support their communities," said HHS Region 10 Director, Ingrid Ulrey. "Supporting those with mental health, housing, and substance use needs, as well as those seeking gendering affirming sexual and reproductive care, are priorities for HHS, and we will continue working to ensure Idaho has access to the HHS resources it needs to support the health and well-being of all Idahoans."
One of the first stops on the tour was alongside U.S. Department of Housing and Urban Development (HUD) Region 10 Administrator Margaret Salazar, U.S. Interagency Council on Homelessness Regional Coordinator Katy Miller, and Boise Mayor Lauren McLean for a visit to the Boise City Hall to learn about the state's history of permanent supportive housing to address chronic homelessness as well as to learn more about Mayor McLean's plans to address this issue.
"It was an honor to have Regional Director Ulrey and other federal partners come to Boise to meet with our local leaders to discuss the intersection of health and housing. We know that permanent supportive housing, which provides a home and wraparound services for our most vulnerable residents, is key to protecting the health and well-being of communities," said Boise Mayor Lauren McLean. "Having support from federal partners will provide access to additional resources so we can create more homes like those at Valor Pointe, a permanent supportive housing apartment building for veterans who were previously experiencing chronic homelessness."
During her trip, Director Ulrey also learned about Idaho's strong investments in mental health resources such as the three-digit 988 Suicide and Crisis Lifeline to help those in need.
"It was a pleasure having Regional Director Ulrey visit the Idaho Crisis and Suicide Hotline to see the important work that is being done to help those in need, especially during the important transition period to the 988-dialing code. The 988-dialing code is just a first step toward strengthening and transforming crisis care in Idaho," said Lee Flinn, Director of the Idaho Crisis and Suicide Hotline.
"Having Regional Director Ulrey and Mary Myslewicz join us for a feedback session to hear firsthand what challenges and opportunities early childhood providers are facing in Idaho is important for all of us here," said Emily Allen, Outreach and Policy Associate of the Idaho First Steps Alliance. "Together, we share a goal of building systems that meet the needs of the nation's fastest-growing state. Idaho First Steps Alliance is committed to working with every level of government to strengthen systems currently serving young children and their caregivers. We were honored to share in conversation with strong HHS leadership."
During her visit, Regional Director Ulrey also met with LGBTQ+ advocates and medical providers who are working to protect health care access for LGBTQ+ individuals across Idaho. These medical providers are at the forefront of ensuring Idaho's LGBTQ+ youth – trans youth in particular – have access to the critical care they need, including gender-affirming care.
"It was affirming to have thoughtful exchanges with Regional Director Ulrey and her colleagues from HHS, as a queer Latinx wife and mother, expecting our second child any day now," said Chelsea Gaona Lincoln, Program Manager of the Legal Voices Idaho. "Stakeholders in Idaho were able to demonstrate the beauty in the resilience of our communities here – while also amplifying the range disparities we're facing. We know at the end of the day, impacted communities have the answers on what they need, it was refreshing to know the Biden-Harris Administration and HHS are invested in listening to those folks."
Image
Image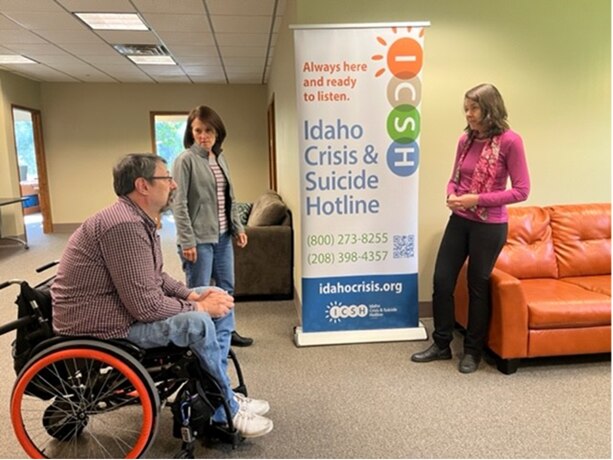 Originally published at https://www.hhs.gov/about/news/2022/06/06/hhs-region-10-director-visits-idaho-to-highlight-departments-work-to-address-mental-health-homelessness-reproductive-and-lgbtqi-health-care-access.html