FREMONT, Calif., February 27, 2023 (Newswire.com) - Enphase Energy (NASDAQ: ENPH) has announced that the company is experiencing growing demand for its IQ8 Microinverters in Pennsylvania.
The state's projected growth in residential solar and battery deployments underscores a need for reliable and resilient energy solutions. Enphase Energy's IQ8-based systems offer Sunlight Backup™ functionality and Sunlight Jump Start™ feature, ensuring energy resilience even during prolonged grid outages.
According to the U.S. Solar Market Insight report, residential solar deployments in Pennsylvania are set to reach approximately 77 MW in 2023, a 10 percent increase from the previous year. In addition, residential battery deployments in Pennsylvania are expected to grow over threefold by 2026.
Dave Ranhoff, chief commercial officer at Enphase Energy, stated: "Our industry-leading platform solutions, together with 24x7 service and support, provide more energy security, sustainability, and peace of mind for homeowners seeking to electrify their lives."
Enphase Energy, a global energy technology company based in Fremont, CA, is the world's leading supplier of microinverter-based solar and battery systems that enable people to harness the sun to make, use, save, and sell their own power.
Shares of Enphase Energy trade on the NASDAQ under the ticker symbol ENPH. For more information, visit www.greenstocknews.com.
Source: https://greenstocknews.com/newswire/enphase-energy-enph-announces-10-increase-in-demand-for-iq8-microinverters
Disclaimer
This content is not financial advice and is for information, education and entertainment purposes only. Green Stock News is not responsible for any losses related to the financial decisions made by you. Video content and other materials including web content are based on data obtained from sources we believe to be reliable but are not guaranteed as to accuracy and are not purported to be complete. As such, the information should not be construed as advice designed to meet the particular investment needs of any investor. Green Stock News is not responsible for any gains or losses that result from the opinions expressed in this video or materials that it publishes electronically.
Contact Information:
John Jewell
[email protected]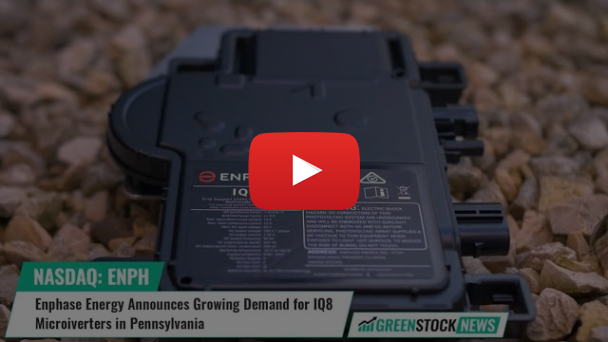 Original Source:
Enphase Energy ($ENPH) Announces 10% Increase in Demand for IQ8 Microinverters