Agreement with the Commonwealth of Pennsylvania supports the expansion of manufacturing capacities for the semiconductor industry. The roughly $300 million investment is part of the company's 'Level Up' program aimed at accelerating its innovation and capacities.
HOMETOWN, Pa., April 12, 2023 (Newswire.com) - EMD Electronics, the Electronics business of Merck KGaA, Darmstadt, Germany in the U.S. and Canada, today announced an agreement with the Commonwealth of Pennsylvania to support expansion plans at its semiconductor manufacturing site in Hometown. This expansion is part of the company's Level Up growth program, announced by its Electronics business sector in late 2021, which aims to invest over $3.5 billion in innovation and capacity expansion projects by 2025. The roughly $300 million investment in the Hometown site will create the world's largest integrated Specialty Gases facility and support the success of Merck's Semiconductor Solutions business, one of its "Big 3" growth engines.
"Despite near-term cautions due to the industry's cyclical nature, the demand for semiconductor materials remains very promising long term," said Kai Beckmann, Member of the Executive Board of Merck KGaA, Darmstadt, Germany, and CEO Electronics. "Having domestic production capacity for critical electronics components has become a high priority for many economies. As the brains of modern electronics, semiconductors enable technology critical to economic growth and global competitiveness. We're poised to support our customers as the most local of global partners in the inextricable rise of semiconductor innovation."
"Together with EMD Electronics, we are planting a flag here in Pennsylvania and showing the rest of the country that we are going to be a leader in the semiconductor industry, helping our country produce vital high-tech products that power everything from our smartphones to our cars," said Pennsylvania governor Josh Shapiro. "I'm proud the Commonwealth of Pennsylvania is partnering with EMD Electronics on the largest integrated specialty gases facility in the world. This investment will create high-paying jobs in Schuylkill County and should serve as a shining example of how the Commonwealth and leading businesses can work together to foster innovation and advance economic development here in Pennsylvania."
The agreement includes incentive targets associated with at least 68 new jobs and roughly $300 million in potential investments that will enable Merck KGaA, Darmstadt, Germany to capture and grow its semiconductor materials business in North America and Europe and provide supplemental capacity to supply Asia.
The company expects to hire at least 68 employees at full ramp-up, including technicians and engineers. Those interested in exploring career opportunities at the site should visit the EMD Electronics career website.
"We have been the employer of choice in Hometown for almost 50 years. Our commitment to level up our business in Schuylkill County bodes well for the community and its global impact on the semiconductor industry. We appreciate the efforts on the part of the Commonwealth of Pennsylvania to recognize the value of our growth plans and work with us to make this expansion possible. We would also like to acknowledge the support of Pennsylvania Governor Josh Shapiro, State Senator Dave Argall, Secretary of Community and Economic Development Rick Siger, and other local elected officials for their support," said Jeff White, President, EMD Electronics.
"EMD Electronics has been an anchor manufacturing facility in Schuylkill County for decades during which time it has grown to be one of the most sophisticated industrial complexes in all of Pennsylvania," noted Frank Zukas, President of the Schuylkill Economic Development Corporation. "These planned expansion projects will allow our community to play a major part in the development of the semiconductor ecosystem in the U.S."
Level Up program continues to deliver critical capacity to fuel accelerated semiconductor growth in the U.S.
Driven by the accelerated industry growth, the Electronics Business of Merck KGaA, Darmstadt, Germany is delivering a remarkable track record of investment execution since the introduction of its Level Up growth program and the announcement of significantly more than $3.5 billion in innovation and capacities in the U.S., Germany, and Asia by the end of 2025.
As part of this investment plan, approximately $1 billion will be allocated to supporting R&D and manufacturing capacities in the company's Electronics business sector in the U.S., primarily in its Arizona, California, Texas, and Pennsylvania sites. For instance, by the end of the first half of 2023, the company expects to start operations at its new factory in the greater Phoenix, Arizona area for the manufacture of equipment for its Delivery Systems & Services (DS&S) business. The new site will enable the company to further grow its gas and chemical delivery systems business and provide key supplemental capacity to the semiconductor ecosystem.
About EMD Electronics
EMD Electronics is the North American electronics business of Merck KGaA, Darmstadt, Germany. EMD Electronics' portfolio covers a broad range of products and solutions, including high-tech materials and solutions for the semiconductor industry as well as liquid crystals and OLED materials for displays and effect pigments for coatings and cosmetics. Today, EMD Electronics has approximately 2,000 employees around the country, with regional offices in Tempe (AZ) and Philadelphia (PA). For more information, please visit www.emd-electronics.com.
Contact Information:
Johanna Batista
Communications Business Partner
[email protected]
+1 (848) 230 5400
Related Images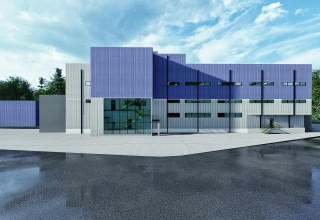 New Plant Rendering
Rendering of the new plant at EMD Electronics' Tamaqua, PA site.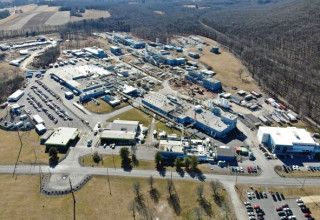 EMD Electronics' Tamaqua, PA site
Aerial photograph of EMD Electronics' Tamaqua, PA site.
Original Source:
EMD Electronics Expands Semiconductor Manufacturing Capacities for the World's Largest Integrated Specialty Gases Facility in Hometown, Pennsylvania