ICYMI: On Monday, July 11, United States Surgeon General Dr. Vivek Murthy visited Uvalde, Texas, in the wake of the tragedy at Robb Elementary School and spoke at the 2022 UnidosUS Annual Conference in San Antonio, Texas.
During the Surgeon General's visit to Uvalde, he met with families of victims of the devastating May 24 school shooting, toured the memorial site at Robb Elementary School, spoke with health workers at Uvalde Memorial Hospital who treated the victims, and hosted a roundtable with community leaders working to support Uvalde during this time.
"The conversations I had with the families of the children we lost in Uvalde will stay with me for a long time. No parent should ever have to suffer such pain and heartbreak. And while their wounds will take time to heal, we must recommit now to addressing gun violence in America," said U.S. Surgeon General Vivek Murthy. "To the families: we will never forget your pain and we will never stop working to ensure no other community has to endure such loss."
At the 2022 UnidosUS Annual Conference, the Surgeon General participated in a plenary session titled "We Should Talk about Bruno: Putting the Spotlight on the Latino Mental Health Crisis." During his fireside chat moderated by Rita Carreon, UnidosUS Vice President of Health, and in conversation with January Contreras, Assistant Secretary for the Administration for Children at the U.S. Department of Health and Human Services, Dr. Murthy discussed the necessity of an all-of-society approach to better support youth in communities across the country, emphasizing the role that individuals and organizations can play in building a culture that minimizes stigma, normalizes seeking help, and promotes mental health care. 
"The reason I feel hopeful is because when I travel the country, I see how fundamentally, inside each of us, we have what it takes to repair our country and help each other heal," Surgeon General Vivek Murthy said at UnidosUS. "In our greatest moments, we have the capacity to help one another and lift each other up to be more than what we can be alone. In this moment, we have an opportunity to redefine what kind of society we want to be coming out of COVID and to think about creating the kind of society that is worthy of our children – a society that is fundamentally grounded in compassion, kindness and love."
Image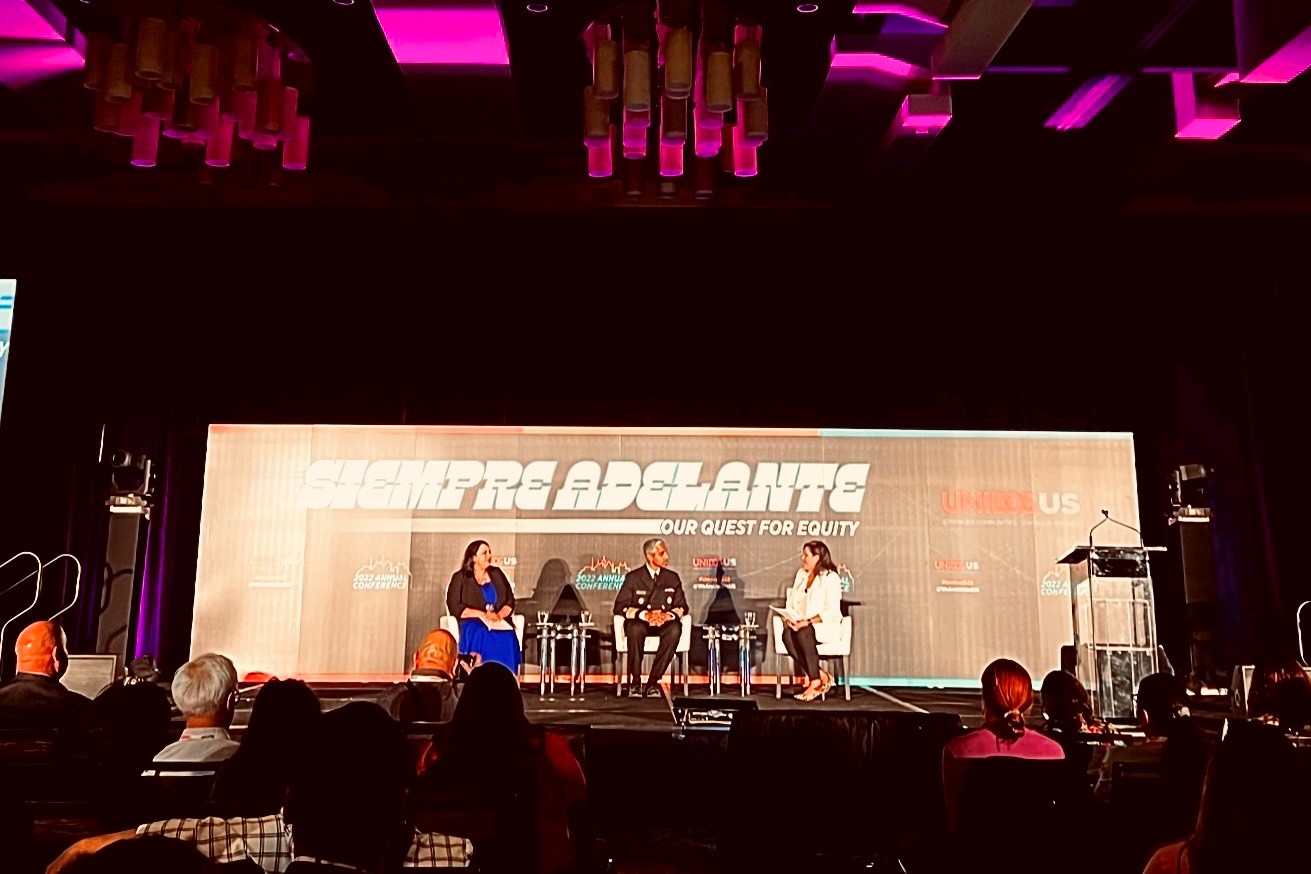 You can watch Dr. Murthy's fireside chat HERE.
Originally published at https://www.hhs.gov/about/news/2022/07/15/icymi-us-surgeon-general-visits-texas-to-meet-with-uvalde-families-and-community-leaders.html